Cullenary #3: NOSH
No, this is not an acronym!
Welcome back to The Shield, and more specifically speaking, Ian's Cullenary! On this third episode of my series, we are taking a trip back to the city—specifically, the Neighborhood of the Arts, just off of University Avenue, and directly next to the Old Pueblo Grill (read that one if you have not yet already).
In fact, the chefs at NOSH cook the food for OPG, as they are owned by the same food-loving family. Nosh is an informally used British noun that translates to "food." NOSH, the restaurant, is therefore classified as a "New American Restaurant," with food that presents all kinds of varieties, from classic pizzas to Korean dishes and seafood. You name it, they probably have something related to it. In addition, I would definitely put this place under the "fine dining" category. The lighting in the restaurant is gorgeous and rather vibrant. The food is expensive, but worth it.
DISCLAIMER: If you are here looking for something scary and related to Halloween, you can just feel free to click the back arrow. What I do know is that just about everyone is looking for good food, so if you blatantly ignore me and click that arrow anyway, it's your loss.
DISCLAIMER IN REGARDS TO THE FOOD: The menu changes sometimes. My family and I were in shock and borderline panic when we walked in and failed to recognize a single item on the dinner menu.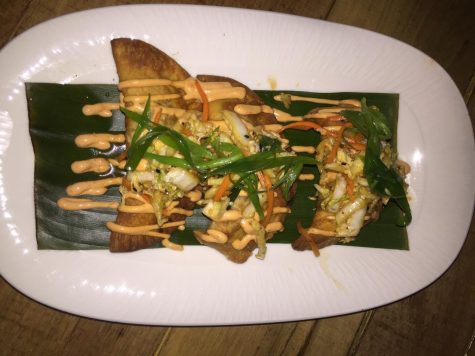 Here today, I would like to mainly talk about the starters. I have no complaints about any of the ones I have tried. They are all highly recommended and great to share. Each appetizer is unique in its own way.
To the right are the K-Town Empanadas, which are made up of bulgogi beef, sweet corn, peppers, cheeses, napa slaw, and a gochujang sesame crema. They were a little on the spicy side for me, but the beef was so well-cooked and -seasoned that I almost didn't mind. The flavors of the peppers and cheeses to go along with the sesame cream run perfectly parallel with the tenderness of the beef and the crisp of the empanada itself.
Below are the Katsu Buns. (Insert immature laughing.) These must-have steamed buns (insert immature laughing, more) are comprised of panko shiitake mushrooms, sweet katsu sauce, cucumbers, radishes, and scallions. I am not a big vegetarian dish type of guy, but the sweetness and warmth of these are absolutely to die for. Now, aside from these hot commodities, the entrees are solid as well. My personal favorite were the BBQ Spare Ribs, but this one, unfortunately, got yanked off the menu, too. There are so many different food items that I recommend, but I cannot explain all of them, because they are too good, obviously. I will provide you with a link to the dinner menu here. To round it all out, the waitstaff is friendly and the selection of beverages is sufficient enough.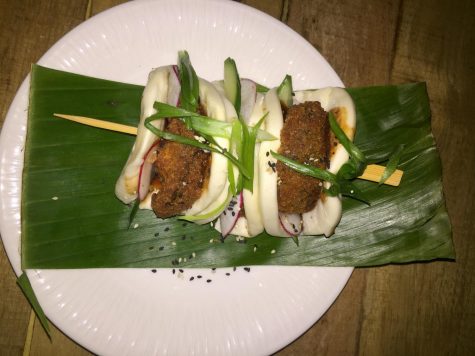 On the downside, it is relatively pricey. NOSH is also a popular place on most weekend nights, so it is quite loud at times, and loud thumping music blares from the ceilings at all times. Whenever you may choose to go, you will most likely end up needing a reservation. Finally, the food lost a point, only because the items on the menu are quite complex, perhaps more than some people might want. They do, however, have a small children's menu. Regardless of what the numbers say, I would definitely give this one a try! Happy Halloween—count yourself lucky that I do not want to scare you too much.
[Ed. Note—if you're wondering, why, yes, it would have been better to save Old Pueblo Grill for our Halloween issue, but unfortunately, the Morales insisted on this way around. Maybe it finds interestingly plated food inherently terrifying.]
By The Numbers:
Atmosphere: 4/5.
Authenticity (Creativity): 5/5.
Food: 4/5.
Price: 3/5.
Service: 4/5.
Total: 4/5.
Leave a Comment