Cullenary #2: Old Pueblo Grill
Welcome back to The Shield, and more specifically speaking, Ian's Cullenary! On this second episode of my series, we are taking a trip to the inner city. Located in the Neighborhood of the Arts, just off of University Avenue, lies this under-the-radar Mexican joint. Located directly next to NOSH (stay tuned), the food here is cooked by the same chefs and owned by the same family. The walls are adorned with vibrant forms of arts decorated in variegated color schemes and bright lights, but that's not why you come here. No, this dive has some of the most unpredictable, yet delicious, food in the Greater Rochester Area. OPG is certainly a must-have in my opinion. My parents got me hooked on this place, and the best part is that it truly brought me out of my comfort zone. I used to just be a plain hard-shell type of guy who likes the occasional Taco Bell. Next thing I knew, the most desired food for me at all times is a Hawaiian Taco that tastes like something that is made in Hawaii. The best part is that they even serve breakfast! (which, admittedly, I have yet to try.)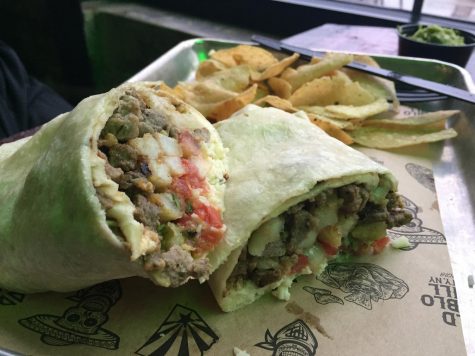 For starters, I will open this paragraph with the fact that I was accompanied on this so called "taco run" by my mother. We each ordered one item off the menu, and shared our choices in order to judge each dish, because I need Content. She ordered the Cali Swag burrito (pictured above), which is OPG's tribute to San Diego's own California burrito. For $10, this specialty is based around the delicious Californian carne asada. The classic shaved tenderloin steak is served alongside cheese, pico, french fries, and is served best with guacamole. The steak was very well cooked and phenomenally flavorful, with all of the contents in the burrito mixed extremely well together.
Then there's my personal favorite, the Flyin' Hawaiian (pictured below). This sweet taco is comprised of huli chicken, pineapples, pineapple salsa, scallions, and soy glaze. Legend has it that this is the worst item on the menu, according to Shield co-publisher The Morales, for no apparent reason other than he's clueless. [Ed. Note—It's not the worst item on the menu. It's just the least good taco.] The sweetness of the pineapples, when paired with the savory huli chicken and the soy glaze, tastes just like candied chicken. If you were to ask me: "Hey Ian, what should I try at the OPG?" I would point you in the direction of these two foodstuffs.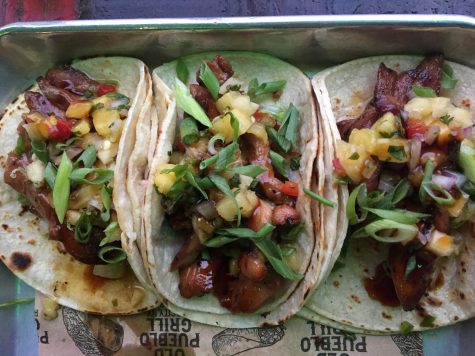 Considering the general atmosphere of the restaurant, all types of people were present. This, in my opinion, goes hand in hand with the variety of music that is always blaring over the speakers in the ceiling. The menus are mounted up on large-screen televisions that are easy to read, as they, similarly, are lit up in fluorescent lighting. The employees and service of the restaurant itself was exceptional, which complements the food quite well. Everything you order comes out nice and warm, and freshly cooked (as it should be). They also have a nice variety (you're hopefully noticing the theme of variety here) of salsas, sides, condiments, toppings, and drinks. My personal favorites are definitely the Mexican Coke and the Jarritos Flavored Sodas. I'm partial to the lime Jarritos; the lime flavor goes very well with the lime juice squirted on the tacos. The fan favorite is supposedly their house-brewed iced tea. I am not the biggest fan when it comes to bitter taste, and therefore, I have yet to try this popular beverage. The food is at an affordable price that is well worth both the money and the time.
It's simple, if you are in a taco mood, go to this place. You honestly have pretty solid chances of finding me there.
By The Numbers:
Atmosphere: 4/5.
Authenticity: 4/5.
Food: 5/5.
Price: 4/5.
Service: 4/5.
Total: 4.2/5.
View Comments (2)