Polos and Backpacks: Kanye and The College Dropout
Kanye West. Where to even begin?
He's arguably the most renowned rapper of the 21st century rap. Everyone knows who Kanye is, especially since his fame reaches far beyond his music. He's been involved in multiple controversies, designed one of the biggest shoe lines in the world, and until recently was married to Kim Kardashian. While many associate Ye with fame and riches, he wasn't always the dominant artist that he is now.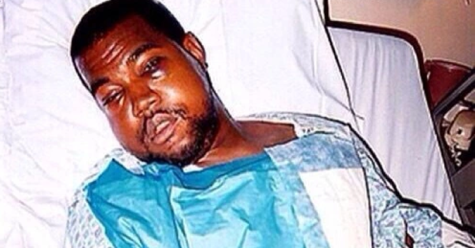 At one point, he was a small producer from southside Chicago making beats for local acts. Eventually, he gained recognition from big names like Jay-Z, whom he produced for the first time on "This Can't be Life" on The Dynasty. The young producer wanted something more, though. He wanted his music to be his, instead of selling his skills to other artists and record labels. That's when Kanye began rapping, trying to show his demo tape to other artists, producers, and A&Rs. Unfortunately, no one wanted to sign Ye as a rapper, and no one thought he was good enough.
Everything changed one night, however, when Kanye fell asleep at the wheel of his Lexus and nearly died in the resulting crash. The incident required his jaw be wired shut, and granted him a lot of free time to contemplate what he wanted to actually do with his career. That's when he decided that he was set on becoming a rapper, and recorded his breakout single.
"Through the Wire" would end up being one of the most important pieces on his debut album, The College Dropout, as it was both great to listen to as well as astonishing from a vocal perspective—since he delivered the lyrics with his jaw still wired shut. After his car crash, everything changed. Ye signed with Roc-A-Fella Records and the rest is history. 
Themes
While I usually don't discuss the themes of an album, all of Kanye's albums represent something more than a collection of songs. In the case of The College Dropout, Kanye follows the narrative of a college dropout student, discussing the toxic American education system as well as other social issues which would continue to generate discourse into the 2020s. As examples of this theme, I have chosen "Jesus Walks" and "All Falls Down."
"Jesus Walks"
"Jesus Walks" samples both gospel choir and military humming to contrast a harsh motif with soothing choir humming. The song delves into issues such as racism and religious suppression, and political correctness in media. The following lines could just as easily apply to recent events as they did when Kanye recorded them:
"Getting choked by detectives, yeah, yeah, now check the method
They be askin' us questions, harass and arrest us
Sayin' "We eat pieces of **** like you for breakfast"
Huh? Y'all eat pieces of ****? What's the basis?
We ain't going nowhere but got suits and cases"
"All Falls Down"
"All Falls Down" is a part of the title college narrative. The song delves into issues of student debt and the harshness of the college system in America, talking about the romanticization of college as well as the difficulties that people face even after acquiring a college degree. I felt these lines especially resonated: 
"She's so self conscious
She has no idea what she's doing in college
That major that she majored in don't make no money
But she won't drop out, her parents will look at her funny
Now, tell me that ain't insecure
The concept of school seems so secure"
Kanye's imaginary girl is going to college, but stuck in a major that won't make her a decent living—and due to a culture that romanticizes college, she will be stigmatized for dropping out. In truth, college isn't "secure" for everyone. College students can accrue six figures of debt without the job security a degree is meant to provide. For many, alternatives such as trade school or going straight into work are necessary paths in order to not live in debt for the rest of their lives. Many people overlook the situation of dropouts, and this album addresses all the false stereotypes about dropping out of college.
Production
Here, The College Dropout is truly one of a kind. Kanye produces and co-produces on all of his songs, mixing and mashing with other producers in order to produce a symphony of beautiful instruments which accompany revolutionary sampling. The reason Kanye was able to land production jobs with artists like Jay-Z was his skill at using 20th-century soul samples, which is evident even in his later works, like "Blood on the Leaves." On The College Dropout, Kanye would pitch up these samples in order to create synth-like instrumentation. The best example of this is "Family Business," where Kanye sampled Fonky Thang's "Diamon' Rang." He uses this sample both as backup vocals and as a short intermission during the chorus. 
Ye's use of drums on The College Dropout is also sensational. While he had not yet delved into 808s (this would be his groundbreaking "discovery" on his 2008 album, 808s and Heartbreaks) his use of the quiet snares, bass, and other drums provides a perfect backdrop to each of his songs, controlling the tempo through their crescendo and diminuendo. Kanye's mastery of the piano is also put on full display on The College Dropout, and songs like "School Spirit" combine traditional percussion with piano melodies to create orchestral sound. 
While it is common to see production like The College Dropout nowadays, it was revolutionary for its time.
Rapping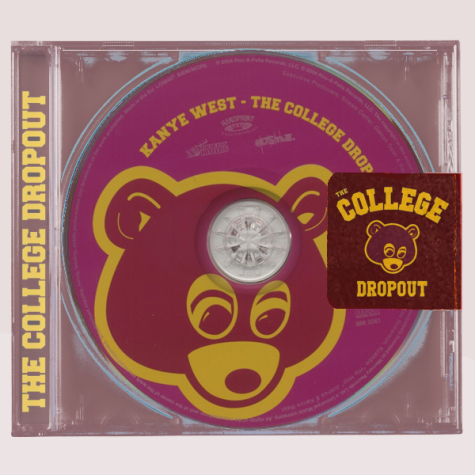 While I already discussed Kanye's rapping in the thematic sense, I would also like to talk about Kanye's pure voice from a vocal-instrumental aspect. In my review of Playboi Carti's self-titled album, I mentioned Carti's use of his voice as an instrument. Kanye, similarly, uses his voice as part of his layered instrumentation. As many who listen to his current works can recognize, Kanye not only perfectly controls his tempo on every piece, but he will even add effects on his voice in order to match with instrumental or soul samples. A great example of this is on "Two Words" when Ye adds a faded-out radio filter to his voice, complementing samples from Mandrill's "Peace and Love."
Conclusion
Simply put, every album Ye has put out has changed the game. Even his most hated albums, like Jesus is King, are revolutionary in some aspect or another. The beginning of his fabled rapper's journey is on full display in The College Dropout, and it's easy to see why it became a classic as soon it was released. Out of any album I've listened to so far, The College Dropout is the best without contention, and I say that confidently. While the album is overlooked by many, the symphony of narrative, instrumental, and vocal performance is unmatched and it stands the test of time.
Further Listening
To Pimp a Butterfly

– Kendrick Lamar

My Beautiful Dark Twisted Fantasy

– Kanye West

4:44

– Jay-Z

Man on the Moon: The End of Day

– Kid Cudi

LONG.LIVE.A$AP

– A$AP Rocky

Oxymoron

– ScHoolboy Q
Leave a Comment