An Audiovisual History of the Beastie Boys
In any discussion of filmmaking, music videos typically go woefully underappreciated. While they lack the long-form storytelling that film and television are known for, music videos offer some of the most innovative, outside-of-the-box production techniques of any medium (case in point), as well as interesting stories of their own (case in point #2). Besides their frequent technical brilliance, music videos offer a window into the mind of the artist or band featured in them.
Enter the Beastie Boys. Comprised of rappers and musicians Adam "Ad-Rock" Horovitz, Mike "Mike D" Diamond, and Adam "MCA" Yauch, the Beasties produced dozens of off-the-wall music videos during their four-decade(!)-spanning career. While many of these videos feature prestigious Hollywood directors behind the camera, a lot of them were actually directed by Yauch, under the guise of his "Swiss uncle" Nathanial Hörnblowér.
What is interesting about the Beastie Boys' music videos is how they mirrored the band's artistic progression. While the trio was initially seen as a novelty act, they proved to be one of the most long-lasting, influential rap groups of all time. As the Beasties matured, they became more and more willing to think outside the box, exploring a plethora of different sounds.  And as their music evolved, so did their corresponding videos. So, without further ado, please join me as I explore five of my favorite Beastie Boys music videos and their respective contexts.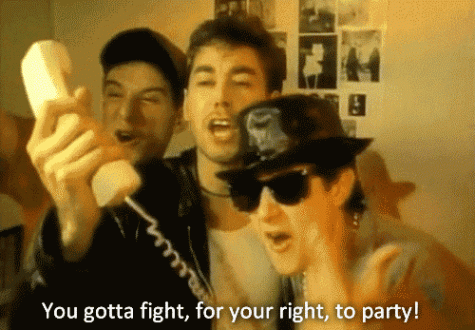 If you only know one Beastie Boys song, it's probably this one. Released as the fourth single on Licensed to Ill, the band's 1986 debut LP, "(You Gotta) Fight For Your Right (To Party)" was a smash hit and has gone on to become one of America's premier party anthems. The music video, much like the song, is essentially an ode to debauchery. Its scenes of vandalism, drinking, and pie-throwing(?) are the perfect accompaniment to lyrics such as "Your pop caught you smoking, and he said 'No way!'" and "Now your mom threw away your best porno mag." If this music video gives you big "obnoxious jock" energy, you're not alone. This song, as well as Licensed to Ill as a whole, was (according to the Beastie Boys) meant to parody stereotypical suburban alpha-male culture. And while it is likely true that there was some satire (after all, the Beasties were three Jewish kids from Brooklyn who were originally a hardcore punk band—not exactly your typical frat bros), the album and its accompanying music videos are pretty offensive by today's standards. While the record's top-tier production and clever wordplay make it an incredibly enjoyable listen, it is hard not to wince at some of the terribly misogynistic lyrics on songs such as "She's Crafty" and "Girls." Thankfully, the group decided to drop the jock aesthetic after Licensed to Ill, instead making music that felt more authentic to who they were as people. The Beastie Boys' next record, Paul's Boutique, is a perfect example of this authenticity. And so . . .
Upon watching the Abstract Impressionist Version music video for "Shadrach," you may wonder how it was created by the same band responsible for "(You Gotta) Fight For Your Right (To Party)." Instead of guitar chords and a basic drum beat, we hear a funky soundscape filled to the brim with samples. Rather than lyrics about sex and drugs, the Beasties spit absurd (yet hilarious) lines such as "I got more stories than J.D.'s got Salingers." And instead of a cheap set filled with shady characters, we are treated to an absolutely gorgeous hand-painted stop-motion concert film (which happened to be the group's first one to be directed by Yauch). The resulting video is a symphony for both the ears and eyes and a prime example of a group reaching their full creative potential. "Shadrach" is the final single from the 1989's Paul's Boutique, an album widely regarded as the Beasties' best. After the surprise commercial success of Licensed to Ill, the trio wanted to prove that they were more than just a flash in the pan. So, abandoning the rather skeletal beats of their debut, they created one of the most innovatively-produced records of all time: a Frankenstein's monster of genres such as hip-hop, funk, psychedelia, and even metal. See, Paul's Boutique was one of the first albums to widely utilize sampling; in fact, it samples over 100 different songs. This ingenious instrumentation, combined with some truly amazing wordplay, made for a truly special record. And while critics generally realized this from the get-go, the listening public didn't. While it eventually went double platinum, Paul's Boutique initially flopped sales-wise, prompting the Beastie Boys to undergo yet another artistic transformation: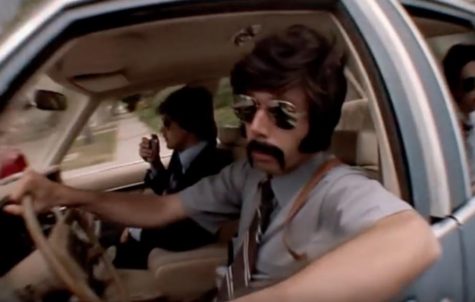 The Beasties Boys' next two albums after Paul's Boutique (1992's Check Your Head and 1994's Ill Communication) took a back-to-basics attitude towards musicality. Instead of lush, multilayered instrumentals, they featured heavy and often abrasive beats created almost entirely using live instruments. No better is this new approach shown than in "Sabotage," an electrifying combination of rap, punk, and electronica that fit perfectly into the robust alternative music canon of the mid-'90s. Such a kinetic song was bound to come with an equally kinetic music video, and the Beasties certainly didn't disappoint. Directed by Spike Jonze (architect of such works of cinematic genius as Being John Malkovich, Her, and Jackass), the video brilliantly satirizes 1970s-1980s buddy-cop shows. The song's three-minute runtime is filled to the brim with chase scenes, arrests, and an ungodly amount of mustaches. Jonze's breakneck editing perfectly complements the song's overdriven bass and screeching vocals, and the video's rather amateurish quality encapsulates the less-is-more mentality of the middle of the band's career. And while this simplicity managed to prevail for some time, it was only a matter of time before the Beastie Boys switched styles once again:
The Beastie Boys' next LP, 1998's Hello Nasty, substituted the hard-hitting beats of their previous records with a space-age kaleidoscope of sound. This is the closest the band ever came to making EDM, with some of the album's instrumentals sounding like they could come straight off a Chemical Brothers or Fatboy Slim record. And while the Beasties had always shown a proclivity for science fiction, Hello Nasty was the first record to fully demonstrate their geekdom. From name-dropping the arcade game Defender to referencing Frank Herbert's Dune, the trio's nerdy rhymes perfectly complement the album's electronic beats. The single "Intergalactic" (with lyrics like "Your knees'll start shaking and your fingers pop / Like a pinch on the neck of Mr. Spock") and its VMA-winning music video provide perhaps the finest examples of these themes. The video, directed by Yauch, is a play on the Japanese kaiju genre (famous for films such as Godzilla and Mothra), with the Beasties controlling a giant robot to stop an alien from destroying Tokyo. The video is also notable for its dynamic editing and innovative use of slow-motion and sped-up footage. And while "Intergalactic" was the group's last top-40 hit, with Hello Nasty generally being considered the end of their prime, they certainly weren't finished making entertaining music and innovative videos: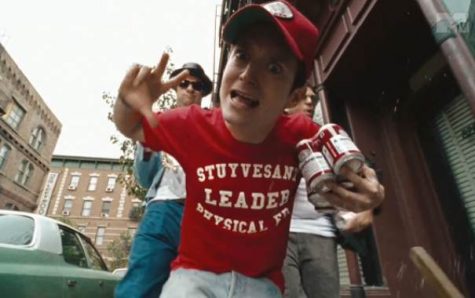 While generally well received, the Beastie Boys' next two records, 2004's To the Five Boroughs and 2007's instrumental album The Mix-Up, failed to reach the critical and commercial heights of their previous work. At the time, it may have seemed that the group's decades-long run of success was finally winding down. However, the release of Hot Sauce Committee Part Two in 2011 dispelled any such notions. Originally intended to be the first installment of a two-part project, this album was eventually rolled into a single "Part Two" (for reasons I will discuss later). Hot Sauce Committee was a refreshing return to experimentation for the Beasties and a fitting consummation to their career. The first single off the album, "Make Some Noise", is a whirlwind of heavy drums, sizzling synths, and distorted vocals, with an amazing music video to match. Initially part of a thirty-minute short film called Fight For Your Right (Revisited), the video focuses on a young M.C.A, Mike D, and Ad-Rock (played by Seth Rogen, Danny McBride, and Elijah Wood, respectively) immediately after the raucous events of the "(You Gotta) Fight For Your Right (To Party)" music video. There are more celebrity cameos than I can count in the video, a sign of the immense respect the Beasties had earned over their career. And while it seems like the video was playing into some larger narrative (perhaps commenting on the trio's artistic and personal maturation since their early days), we will likely never see the payoff, as Yauch was tragically diagnosed with cancer in 2009 and passed away in 2012. Yauch was a visionary who left behind a legendary creative output and, by all accounts, a genuinely good man. A Buddhist since 1994, he championed the Tibetan independence cause, organizing several Tibetan Freedom charity concerts featuring renowned musicians. Through his lyrics and personal statements, Yauch also spoke out against misogyny, war, and Islamophobia. While it can be easy as a celebrity to sit in an ivory tower and ignore the marginalized, Adam Yauch actually made a difference—something greater than a million hit songs.
View Comments (1)