Contenders: New WWE 24/7 Champion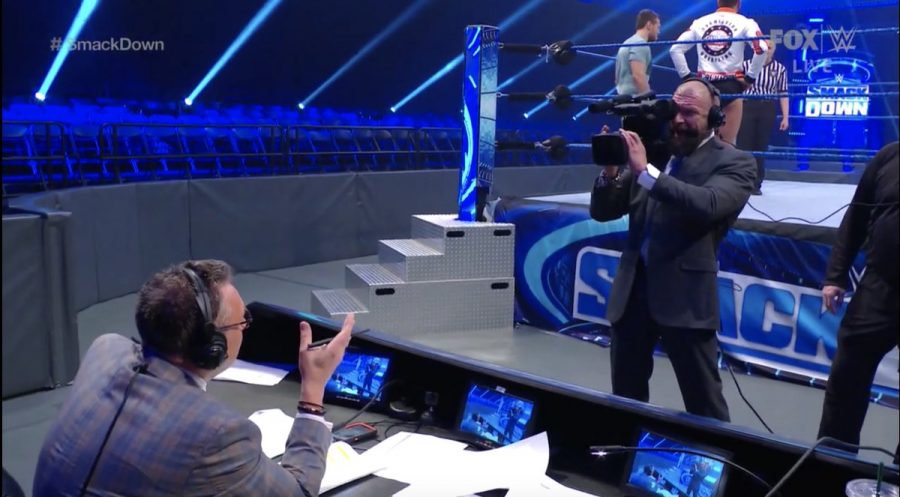 First, I'd like to address the elephant in the room: it's good to be back.
I've enjoyed a peaceful and calm four-year retirement from writing for The Shield. I'd be lying if I didn't mention the countless offers I've had from various publications to come out of retirement, such as the Daily Planet and the Daily Bugle. But I never felt the time was right . . . until now. After seeing hours of Michael Jordan content relating to the end of his first retirement, I knew I, too, had something left in the tank. Jordan and I, both unquestioned winners, still had, and have, more to give.
That's why, when I got the call from The Morales saying he [Ed. Note—the Morales is, decidedly, an "it"] needed me, I couldn't refuse. Matthew Magiera and Will Scheuerman needed one more old-timer to saddle up with for a last run. With a grizzled beard and a K . . . kaleidoscopic beverage in hand, I set out in a Rocky-esque training montage, getting myself back into performance shape. After weeks of grueling physical work, I can say I'm ready. So, with all that being said, let's ride one more time.
The renowned organization that is World Wrestling Entertainment has a history of developing star talent. Dwayne "The Rock" Johnson, Stone Cold Steve Austin, John Cena, and The Undertaker are not only recognizable for wrestling fans, but to anyone, as celebrities and top company stars. As is abundantly clear, WWE never ceases to keep pushing itself into the public eye with over-the-top dramatics and slightly less than realistic displays. The recent introduction of the 24/7 championship is the latest attempt by Vince McMahon to bring outside attention to the company, with champions like Kyle Busch, Enes Kanter, and of course, Rob Gronkowski.
Gronk is the epitome of what WWE seemingly tries to avoid yet can't get away from: gym rat meatheads and steroids. His last brain cells would probably be used to stick his tongue out and spike a football. But he is peak entertainment, and peak entertainment is even more crucial now during these strange times. People are locked up at home, desperate to find some kind of source of entertainment that isn't completely monotonous or recycled. WWE used Gronk as a host for their two-night Wrestlemania event in April, as part of their commitment to remain one of the only live sporting events still on TV and gain attention from people who don't usually consider themselves wrestling fans.
I, like many others, sat down for two weekend nights, eager for something new in front of me, and WWE did not disappoint. The cinematic boneyard match and a confusing Firefly Funhouse were great fun, but Gronk clearly represented the biggest allure for non-wrestling fans. His mere presence and impending championship reign were enough to keep many tuned in, waiting for his shenanigans. And of course, it happened. Gronk pins the former champ Mojo Rawley, and with his tongue sticking out, becomes the new champ. However, Gronk (much like myself) soon felt retirement was short-lived, and went to Tampa to join Brady and the Bucs in what literally seems like the creation of a second Death Star. But with Gronk seemingly gone, fans may go elsewhere, uninterested in seeing a WWE without the quirky, destructive, almost-Neolithic personality of a Gronkowski.
WWE needs a quick change to be able to pull in the same high ratings with people still glued to their televisions. This is an opportunity for massive exposure that they cannot simply ignore. So, here I present a list of options for Vince McMahon to consider in his attempt to find a suitable replacement—and, dare I even say, upgrade—to "Gronk Smash", in order to keep you and me tuned in:
Option #1: Gritty
I went with probably the easiest pitch to start. The Philadelphia Flyers mascot has the ruthless aggression and "grit" to make it in this business. Everybody knows Gritty, and many, rightly, fear him. He seems to be constantly increasing his wrath and wickedness, even to the point where he literally almost had to make a court appearance, although I feel like jury nullification would've saved Gritty no matter what. I see him drawing in fans who are thinking "what could he possibly do next?" in a company that tends to answer that question exceptionally well. He also has experience working to entertain people, as that's literally what a mascot does. He has the tenacity and the appeal to be successful in the business and attract many eyes. He also has no links to organizational-level cheating of any sort, unlike other mascots. I have no idea if Gritty is literate and can speak an audible language (which, to be fair, I also wonder about Gronk), but the main concern here is Gritty's relationship with authority. I can't see him listening to Vince and reading from a script even when he wins the title, let alone when Vince makes him drop it. Backstage chaos and heat would arise from his carefree attitude, and the work environment would be incredibly hostile. He's a major wild card.
Option #2: Nicolas Cage
Folks, there's a reason Nic Cage has appeared in literally almost every movie ever made. The guy = $$$$. He puts people in seats and draws plenty of attention. And it goes without saying, this is deserved. He's set his skull on fire and saved the day by riding a motorcycle in two movies. Cage has also saved the Gates family name from criticism in daring journeys to keep coveted treasure out of thieving hands, and he did this, again, TWICE. He has the gall to perform death-defying stunts and daring missions, all for the greater good. [Ed. Note—the greater good.] A guy willing to do whatever it takes will get fans tuned in to watch would make McMahon salivate over the possibilities for his character. Evel Knievel-style jumps over sharks? Tightrope walk over Niagara Falls? Emerge out of an inflamed coffin? Yes, yes, and a million times yes. Cage wouldn't flinch for a single second. He seems perfect for the role, but booking him might be tough. He can't have many days off, given his insanely busy shooting schedule. He wouldn't be around too often and could command a lot of money, which I know Vince does have to spare, but I also know he won't spare it. Cage seems more like a pipe dream, a fantasy for Mr. McMahon that is likely to not be realistic.
Option #3: Kevin James
What's behind door three might be the most alluring. James singlehandedly created the Kevin James Cinematic Universe (or the KJCU for short) with The King of Queens, 2 Paul Blart: Mall Cop movies, and Kevin Can Wait, which, let's be clear, should never have been canceled. He's got the sitcom history and the jokes to make people laugh hysterically, and the physical skills to take down worthy adversaries, which he showed off not only as Paul Blart but as a spy in True Memoirs of an International Assassin. If that's not enough, he also talked to animals in Zookeeper, was the President of the United States who helped save the world in Pixels, and avenged Sam Elliott in Barnyard. He's got the existing notoriety to drum up plenty of new fans and viewers for WWE, and those same skills point towards him being able to accept new challenges and find new ways to win over the hearts of people worldwide. The dude was in two Grown Ups movies, so after taking orders from Adam Sandler, I'm sure he's fine with listening to Vince McMahon's assuredly evil demands. He also, quite literally, has very little going on and could take up the demanding WWE schedule in a heartbeat. He might not have the complete unpredictability of Gritty, or have quite as many stunts in his arsenal as the great Nic Cage, but Kevin James is darn sure to bring the kind of commitment that'll drum up new attention during these strange times.
And please, oh please, let Kevin James fight Gronk in a separate pay-per-view for his title. It would get more buys than both Tyson v. Holyfield fights.