Tanking: the only word that gets thrown around more than the football every NFL season. But what exactly is it, and why is it a horrible idea, especially for this year's upcoming draft?
Tanking is when a team plays horribly on purpose in order to get a better draft pick, and therefore get a great player to help rebound the following year. However, tanking is a horrible idea, and since it's quite the buzzword this year, it needs to be discussed.
First of all, the NFL does not permit teams to purposefully play horrid football for any reason, let alone getting a better draft pick. Considering the NFL's punishments for players that gamble (but not players that commit actual, victimful crimes), if a team were caught tanking for better draft picks, the penalties would likely be through the roof. Something such as forfeiting picks across multiple drafts, suspending players and/or coaches for throwing games, and maybe even forcing the owner to sell the team would probably be in the cards.
There have been investigations into whether or not teams have tanked before, but there are a few more recent and more league-altering instances of potential tanking. The first was in 2017, when USC quarterback Sam Darnold was lighting it up in the PAC-12, and NFL teams were taking note. Jets fans began wearing shirts and hats with the phrase "Suck for Sam" to games. They wanted to draft Darnold that bad. Sure enough, Darnold was taken third overall in the 2018 draft, and take a look at how Darnold did in New York. He played with the Jets for three years, during parts of which he was infamously out with mononucleosis, before being dealt to Carolina, where he played for two years, and is now in San Francisco. The Darnold experiment, whether intentional tanking was a part of it or not, was a massive failure.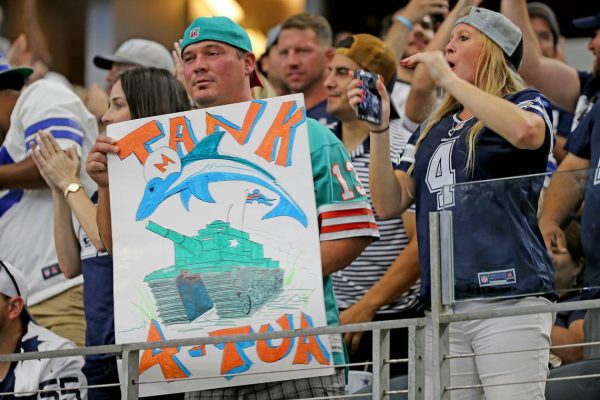 The other potential tanking incident was in 2019, when Dolphins fans wore shirts and hats with the phrase "Tank for Tua." [Ed. Note—Sports fans sure love alliteration, huh?] Similar to Sam Darnold, Tua Tagovailoa was a monster in college, steamrolling the SEC thanks to Nick Saban. Tua was taken fifth overall in 2020, but unlike Darnold, was actually a success. Tua has blossomed into a top-10, if not top-5 quarterback in the NFL, and while he isn't entirely responsible, the 2023 Dolphins are more or less a Super Bowl contender. While New York proved that (potentially) tanking for a high draft pick can fail miserably, Miami proved that it can also work out. But what about now?
There is really only a single college player that teams would consider tanking for this season, and that is USC quarterback Caleb Williams. A former Heisman winner, Williams is one of the best players in all of college football, and is often considered a generational talent. For a team like the Denver Broncos, a horrid team with an aging QB, Caleb Williams seems like a fever dream. Call me a biased Broncos fan all you want, but you have to admit, tanking for Caleb is an utterly stupid idea. This season, Caleb Williams has proven that he may not be as great as suspected. In a span of three weeks, he: squeaked out a win against Arizona by two points at home; lost by 28 on the road against Notre Dame (this is your friendly reminder to Go Irish!); lost at home by two points, this time to Utah. If Caleb can't pull it off in college, his potential in the NFL may already be wavering.
There is also the ownership element. Caleb has stated that he wants to be a minority owner of whatever team drafts him. While that may not seem like a big deal, it is, since it raises question about its legitimacy. If Caleb were to be traded, would he have to sell his share in the team? If he doesn't, could it allow him to potentially throw games for his team stock to appreciate? Is it even allowed in the first place?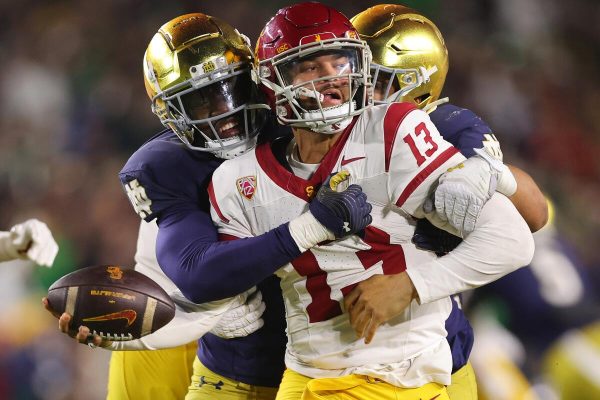 There also is a dichotomy between draft picks and rookie salaries. The players taken in the top 5-10 draft slots are, not surprisingly, paid more than their counterparts taken later in the draft. However, players taken in the middle-to-late picks of the first round have proven to be just as great, if not better, for their teams that the top picks. TJ Watt, Lamar Jackson and Justin Jefferson were all taken at the 22nd pick or lower, and didn't command as much of a salary as rookies because they were drafted lower. Meanwhile, players like Baker Mayfield, Kyler Murray and Bryce Young all have yet to pan out, and all commanded higher salaries even as rookies because there were drafted higher.
Tanking for a higher draft pick usually results in paying a more mediocre player more money. It usually causes issues for teams, and sets them back a few years because of it. Tanking rarely works (that is, if it truly has been done before), and with rumors of teams doing it this year for someone like Caleb Williams, it is important to realize how bad it can be, and why it shouldn't be done this season, or any season for that matter.